"Spread Your Arabic"
"Spread your Arabic" is a FREE Arabic Language course offered to the students and faculty of Washington State University as well as the communities of Pullman and Moscow.
"Spread your Arabic course" is a series of weekly lectures explaining how one speaks and communicates in the Arabic language. The course also explains about the Arabic customs and cultures involving proper dialog and pronunciation in speech. Throughout the course of the semester, there will be guest speakers, authentic Middle Eastern food and snacks, and field trips. All trips, food, and activities are FREE of charge and the course is taught by native Arabic speakers who are members of the MSA. Course material is developed by members of Middle Eastern Student Association and Muslim Student Association.
The course requires at least 3 hours of commitment per week for 12 WEEKS.
There will be TWO 1.5 hour sessions per week. The first session will be a lecture type session where participants will learn the material (Example Material for Day1). The second session will be a round table discussion type where participants will be able to practice the learned material with multiple native Arabic speakers and neighboring participants. There will be 3 levels (beginner, intermediate, and advanced) that each participant will fall under depending on their fluency in Arabic.The course is only offered at WSU Pullman campus therefore seating is limited. Please register only if you have a strong desire and dedication to learn Arabic!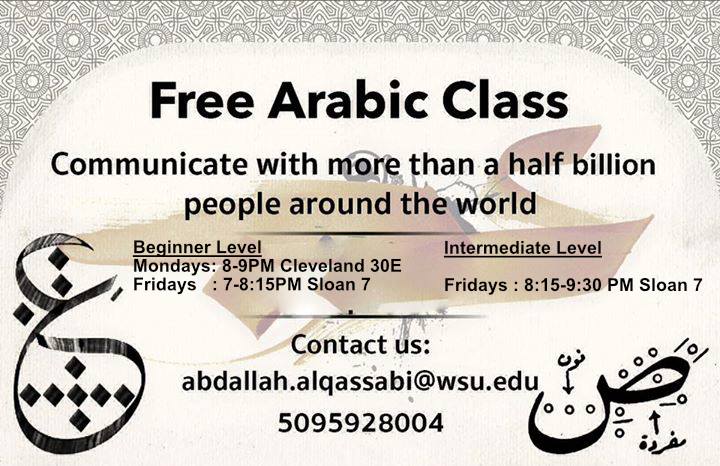 "Spread your Arabic" classes will start Friday, January 27th 2017 at 7:00pm in the rooms listed below. Depending on the number of participants and their current Arabic knowledge, classes will be split into levels which are listed below with times and will meet weekly either on Mondays or Fridays.
1st day of Instructions:
Beginner Modern Standard Arabic : January 27th 7-8:15 pm Sloan 7 on Fridays
Beginner Modern Standard Arabic :January 30th 8-9 pm Cleveland 30E on Mondays
Intermediate Modern Arabic: January 27th 8:15-9:30pm in Sloan 7 on Fridays
Here are the dates/times and instructors to contact for further information about each course. You could sign up for as many Arabic classes as you wish.
Beginning Modern Standard Arabic:
Date/Time: Mondays 8-9 pm, Fridays 7-8:15 pm
Instructors:
Abdullah Alqassabi

Intermediate Modern Standard Arabic:
Date/Time: Fridays 8:15-9:30pm
Instructor:
Abdullah Alqassabi
REGISTRATION IS CLOSED FOR SPRING 2017 SEMESTER